All Seasons Uniforms strives to promote, advertise, and capitalize your brand with our quality embroidery work. Competitive pricing paired with the convenience of a one stop uniform shop - we hope to become a staple for all of your uniform needs. From companies, clubs, and events - we will be sure to deliver and represent your brand and message in the way you have envisioned it.
---
No returns or exchanges on embroidered items.
Average turnaround time for all embroidered items is 10 - 14 business days.
NEW
Request a quote online today!
LOGOS/ARTWORK
6 piece minimum for all embroidered logos (less than 6 pieces incurs a $15 small order fee)
Embroider 12 pieces or more = one time design/set-up fee waived for a chest sized logo
Email your logo in a .jpeg, .gif, .png, .pdf, .eps, or .psd file format for pricing: [email protected]
Include:
Placement: (i.e. left chest, right chest, left sleeve, right sleeve, & full back):
Garments you wish to have embroidered (lot number, color, quantites, sizes, etc.):
NAMES/STOCK LETTERING
6 piece minimum - no set-up fee

Exclusions: no minimum piece requirement for doctors and nurses for stock lettering
Include:
Placement: (i.e. left chest, right chest):
Font case (Upper and Lower or ALL CAPS):
Font type (Block, New Times Roman, Script, Brush Script, etc.):
Thread color:
Garments you wish to have embroidered (lot number, color, quantites, sizes, etc.):

If you'd like a combination of your name, title, and department, simply write it out how you'd like it to appear!

For example:
Dr. Daniel, M.D.
VASCULAR SURGERY
$3.50 for up to ten letters per line*
$5.00 11-19 letters per line*
Anything above 19 letters is priced per additional letter
*More than one line per placement = Call / E-mail for Quote
We can add personalization to any of the fonts shown below:
SCRIPT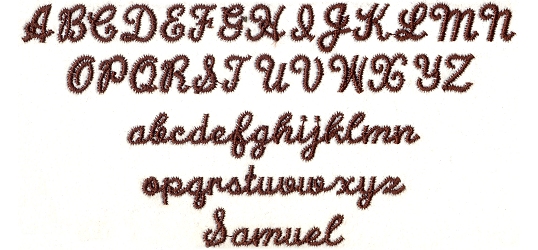 BLOCK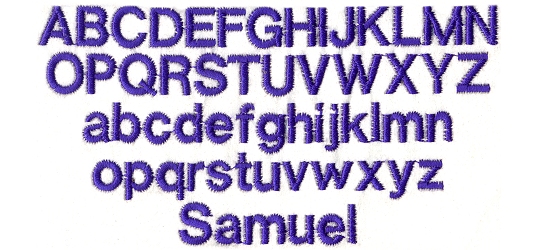 ROMAN ITALIC
NEW TIMES ROMAN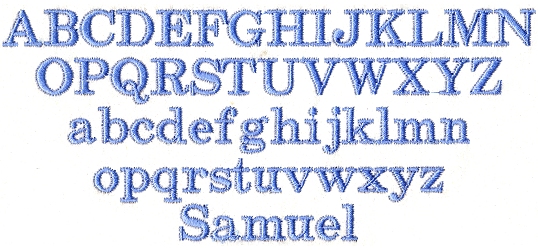 BRUSH SCRIPT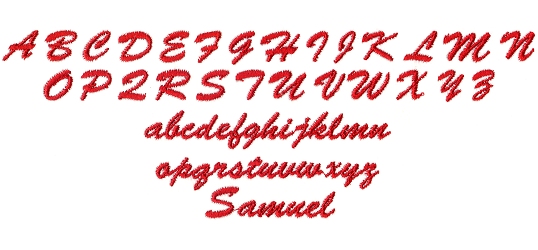 Sample Logos